1325 Fifth Avenue, New York, NY 10029
$10,000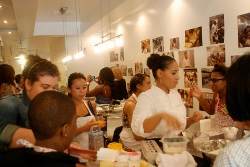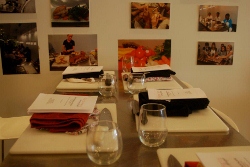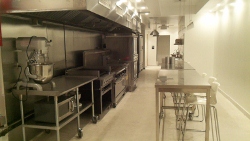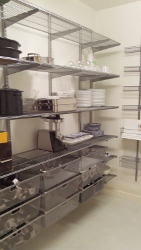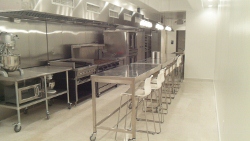 Property Details
Property Description
City Cookhouse - Perfect Multi-Purpose Venue! Spectacular Brand New Pristine 1000 SQFT Commercial Gourmet Kitchen For Lease. 9Ft Frontage.
Multiple Uses: Cooking School, Television Show, Events, Catering, Restaurant or Bakery, Distribution, Food Processing and Testing. Completely renovated! Features decorative spot and overhead lighting, administrative office, separate bathroom, shower and changing area, central air and heating, intercom system and security system. Accomodates 25 people in a classroom or 50 people cocktail reception setting. Equipment Specifications: *Montague Legend 45,000 BTU Grill, griddle, and ten-burner gas range 366,000 BTU, * US Range Sun Fire Series 80,000 BTU Convection and conventional ovens, * AdCraft Gas Fryers * Prep and hand sinks * Microwave, mixers, food processors * Ice maker, commercial freezer and refrigerator * Jet-Tech High Temp Dishwasher * Rolling storage racks, stainless steel tables, * Pots, pans, and baking equipment * Tableware and utensils * Stemware, knives, flatware, and tableware * Dry and cold storage All utilities are included. - Electricity, hot water and heat are responsibility of the landlord. Schedule an appointment today with Elaine Perry at 917 841-3230.
Short Term Monthly and Annual Leases and Shares (Shifts) Preferred Rates: After Shift Cleaning Fee Included - Overnight Shift $4,000 per Month. •Day Shift (7AM - 4PM) 9 Hours - $375.00, •Night Shift (5PM- 11:00PM) 6hours -$350.00, •Overnight Shift (Midnight - 6AM) 5 hours - $250.00, Full Use - $3,000 Per Week, $6,000 - 2 Weeks, $12,000 Per Month. •Discounts offered for more than 10 shifts a month Tenant Requirements: 1. Proof of Funds 2. Established profitable business - or funded Start-Up 3. $1,000,000 plate glass and liability and business insurance policy 4. State License
Location
Interested In This Property?